Title:
crumble and fall (like an animal)
Author(s):

freakykat
Artist:

birddi
Rating:
NC-17
Disclaimer:
Don't own the boys, unfortunately. No money made. Not even a little bit. Not even at all.
Characters/Pairings:
Kris Allen/Adam Lambert, past Adam/Brad
Word Count:
41,275
Warnings:
sexual context, violence, strong language, angst muffins
Spoilers:
None that I know of.
Summary:
Kris knew from the first moment he met Adam that they were supposed to be something important. But at ten years old, he had no idea what that would be. When Adam is turned at fifteen, Kris understands their connection. Adam is Kris' mate. His future husband. When tragedy strikes, Adam turns his back on them all, running from his own pain and leaving Kris floundering alone.

Adam ran long and hard from his destiny and everything that he was supposed to be. From his clan and his responsibilities...and especially from Kris. Kris is his best friend, the person Adam loved most in his life and he can't risk what that loss would do to them. But when Kris finds him to tell him they are on the brink of losing everything he can't stay away anymore.

Can Kris live with not having Adam the way he wants? Will Adam realize that his fear is keeping him from being with the one meant for him? Can they figure it all out before it's too late?
Author's Notes:
This is a little late. I have to thank

escapes
and

ecarian
for being such awesome beta's, supporters and cheerleaders. You guys are the best!
So much love and thanks to my artist

birddi
for the kick ass fanmix and fanart. Make sure to leave her nice feedback
here.
Link to Art Master Post:
crumble and fall (like an animal) Art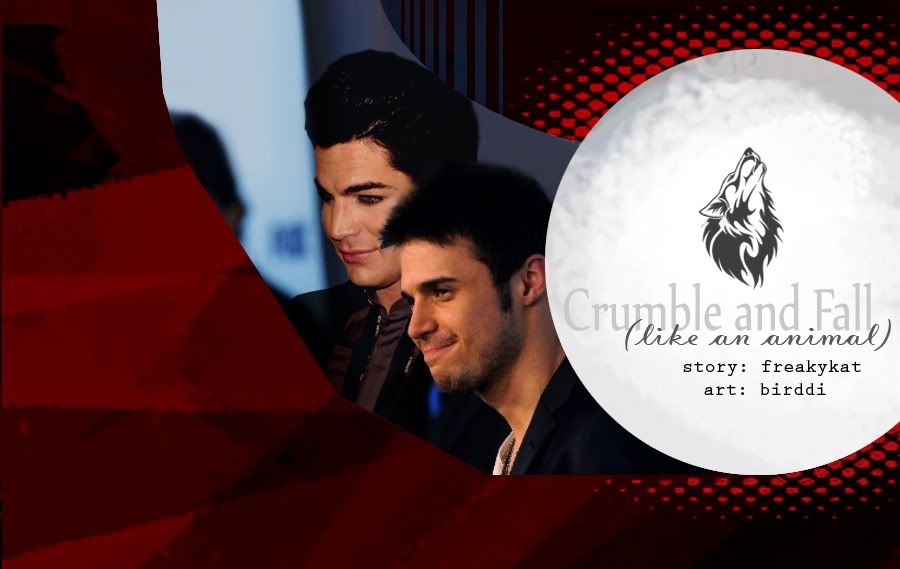 |Part One|Part Two|Part Three|Part Four|Part Five|

-- OR --

AO3